Huawei E5372ts-601 is one the powerful and compact LTE mobile wifi router, providing a download speed of up to 150mbps and battery backup of 6 to 8 hours. The E5372 router simultaneously supports connecting 11 devices at the same time. Huawei e5372 is sold by different providers in different countries in locked form. Bolt Indonesia is selling the same router and there is already a post on how to unlock that(You can find it here). In Saudi Arabia, Zain has launched e5372 (Unlock instructions here). STC is also selling e5372ts-601 which has a customized firmware and cannot be unlocked by simply changing the firmware. To unlock STC e5372ts-601 you have to carefully follow the procedure given below.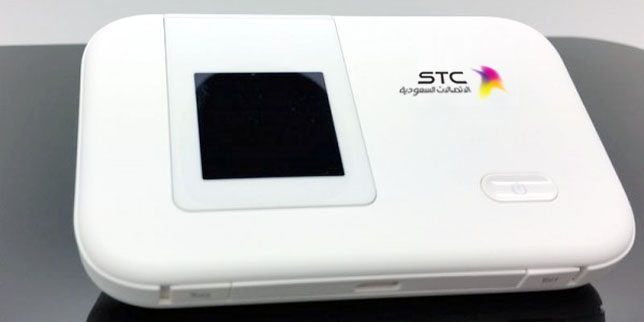 Detailed Instructions on how to Unlock STC E5372ts-601 4G HUAWEI Router
Phase I:
Download  STC E5372 Unlocking App and open it. Go to User Login (Default username and password is unlockmyrouter). You will get the login successful message as given below.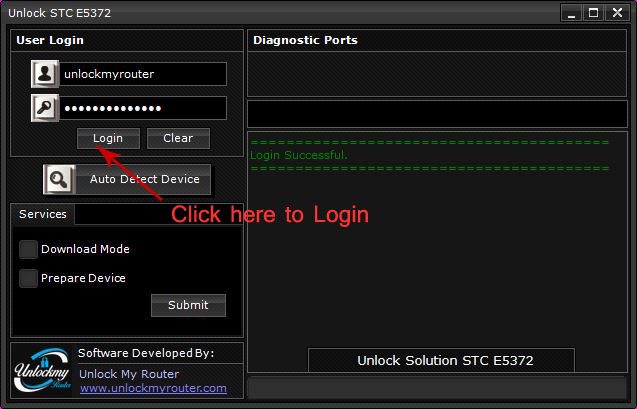 After Login, Connect the router to the PC/laptop. Click on Auto Detect Device, your device information will get displayed.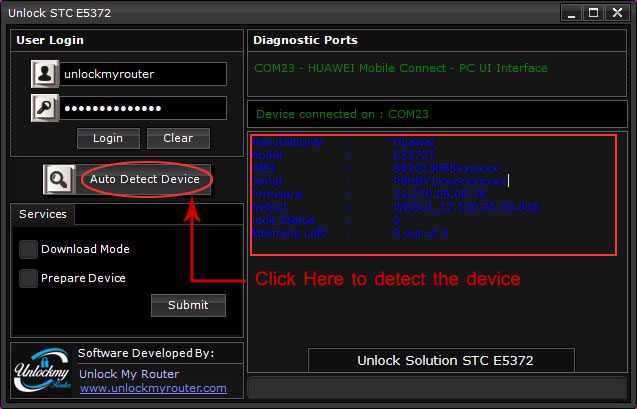 Choose "Download Mode" option and click submit. It will ask for the APP unlock code, Enter the exact code which you have got from us and click OK.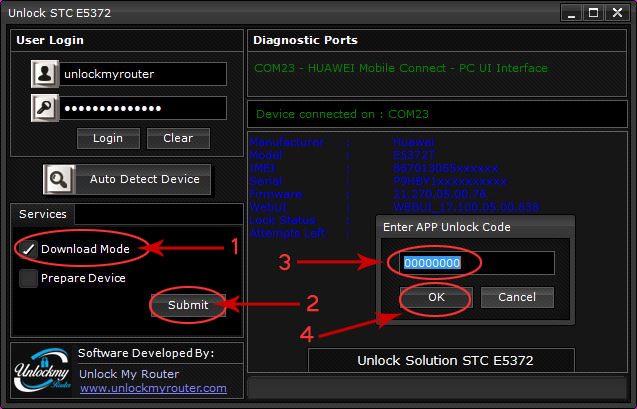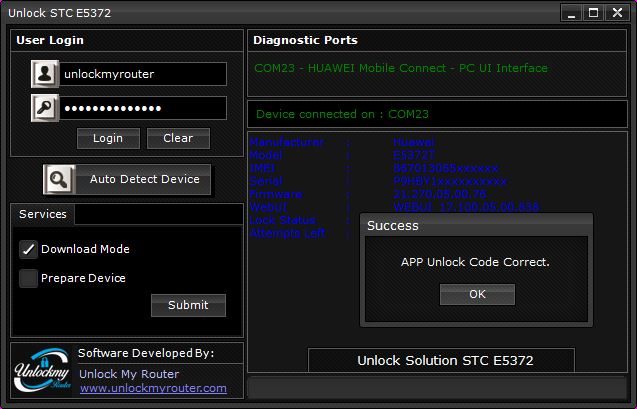 Your device will switch to download mode and will display Huawei Logo on the screen.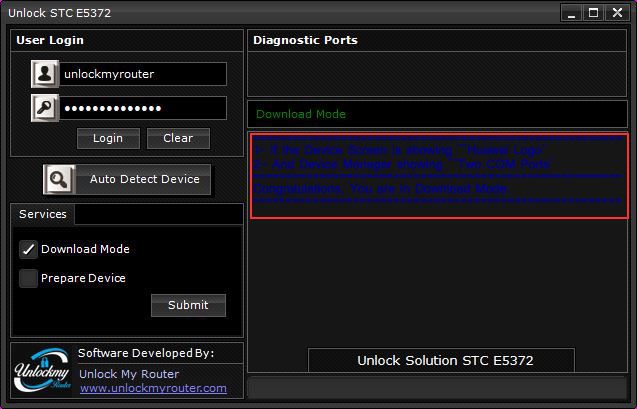 Please check the device manager and at this stage, it should show two COM ports.
Choose Prepare Device and click submit. Soon, you will get the message "Device Ready to install Firmware".
Phase II:
Wait for the STC 5372 router to show Huawei on the display screen. If it is being shown, Disconnect the USB cable, remove the battery and put it back, switch the router ON and wait for one minute. Download the firmware from here. Run the firmware, if it asks for the Flash Code generate it from here. If you get error while installing firmware then restart router and run the firmware file again.
Very Important: After the firmware installation, the device screen will not function properly. No worry, here is the fix. Just download and install universal web UI 17.100.05.00.838 from here.
After the installation is over, insert any non-compatible SIM and open your favorite web browser and navigate to http://192.168.8.1, it will ask for the unlock code, enter the unlock code received from us to get your router unlocked forever.
Unlock code is not free. You will have to pay 6 USD to get the Unlock Code. Kindly proceed only if you agree to pay the same.