Viva is providing two variants of E5577. One is Viva E5577s-321 and another is Viva E5577Cs-321. To unlock Viva E5577Cs-321, we have developed a special app which can unlock your VIVA router safely.

Update: Viva has increased the security of its router and now is sold with firmware version 21.329.63.00.397 and WEBUI 17.100.20.00.397. We are glad to inform that this can also be successfully unlocked. And to unlock this version you don't even have to dismantle the router. Click here <= to go that page.
Important Update: If the version of your router starts with 21.200.07.01.397 than the router can be unlocked by just entering the unlock code. No need to go through the hassle of changing the firmware. Follow the instructions => given here.
Update I: Zain Zordan and Zain Bahrain are also offering the E5577s-321 with firmware-version 21.200.07.02.1367 and WebUI version 17.100.11.03.1367. Similarly, German Telekom is also providing Huawei E5577Cs-321 with firmware 21.316.01.01.748 and WebUI 17.100.15.00.748. Both of these can also be unlocked using the App given here.
Update II: Umniah Telecom, Jordan is also offering E5577Cs-321 with firmware  21.316.01.00.1029 and web UI 17.100.13.02.1029 which can also be unlocked with this app. To unlock this you don't even have to unscrew the device, only detect the router, go to download mode and start by flashing firmware 1. The rest of the steps afterward will remain same.
Update III: Successfully unlocked E5577Cs-321 Firmware 21.200.07.01.397 and WebUI 17.100.11.08.397. If your version is 21.200.07.01.397, detect your router in the app and immediately jump to phase 2 (No need to unscrew the device and you can skip the loader part).
Update IV: Orange, Jordan has also launched Huawei E5577Cs-321. It comes with version 21.200.05.00.647 and 17.100.11.00.647 and can be unlocked without unscrewing the router. If the Orange Firmware-Version is 21.322.01.00.314 and WebUI 17.100.15.50.314, unscrew and follow the instructions.
Update V: Eir Network of Ireland has also launched E5577Cs-321 with the firmware version 21.316.01.01.394 and WebUI 17.100.15.00.392. This can also be unlocked with the below-mentioned process.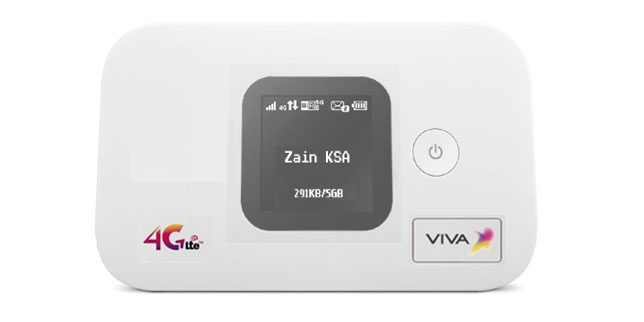 How to unlock Viva E5577Cs-321 4G Router
Note: Windows XP/7/8 is required for this to work.
Download and Install Drivers from here.
Dismantle your Viva E5577Cs-321 router.
Shot the board of the Viva router as given in the picture below. (Join both the points using wire or tweezer (Battery should be plugged in). Without disconnecting the points, plug in the USB cable in the PC/Laptop.  As a consequence, you will hear a sound and a new device (Huawei Mobile Connect…..) will get installed on your PC/Laptop.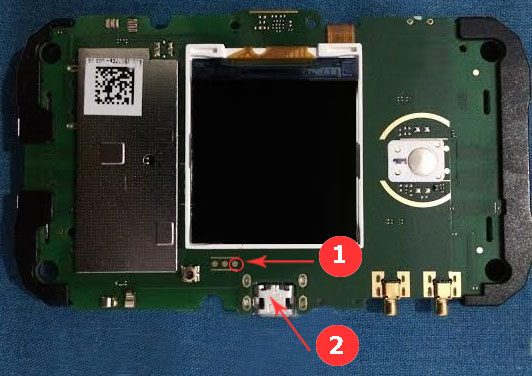 You will find this device in the Ports section of device manager of your PC/Laptop. It should look something like the screenshot below. If it is not there, you will have to redo the previous step.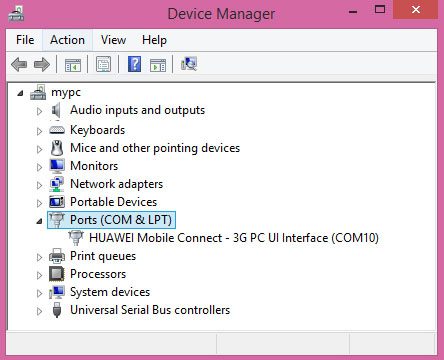 Phase 1:
Download  Viva E5577Cs-321 Unlocking App and open it. Click on Login (Default username and password is unlockmyrouter).  After successful login, Select "Apply Loader" option and then click on submit as shown in the pic below.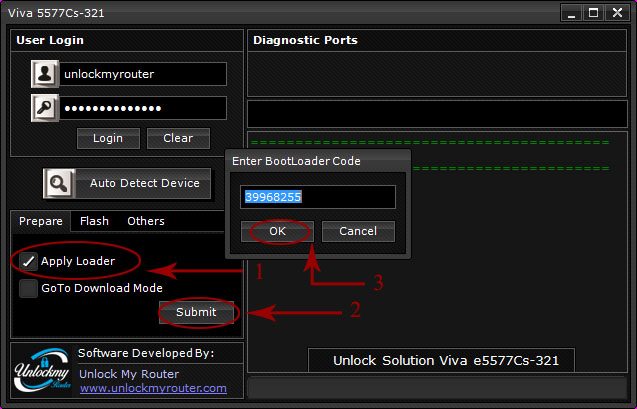 You will be asked to enter the BootLoader Code. Enter the code received from us and click OK. If the code is correct you will get a confirmation message as given below.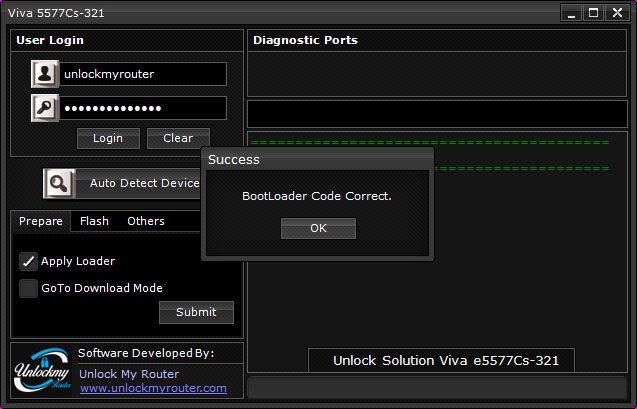 Click Ok. Wait for few seconds to get the loader installation message as given below.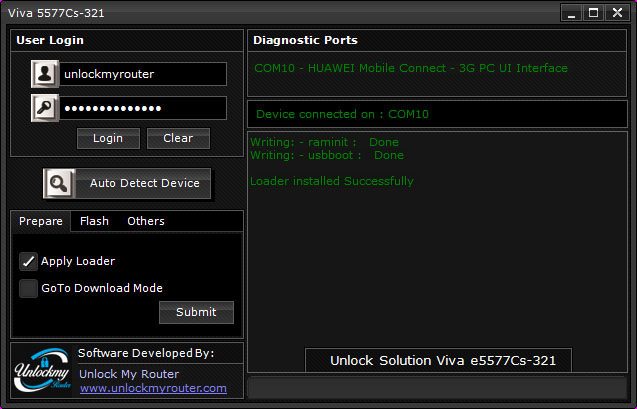 Phase 2:
After "Loder installed successfully", open Device Manager again and you will notice two ports now instead of one as given in picture below.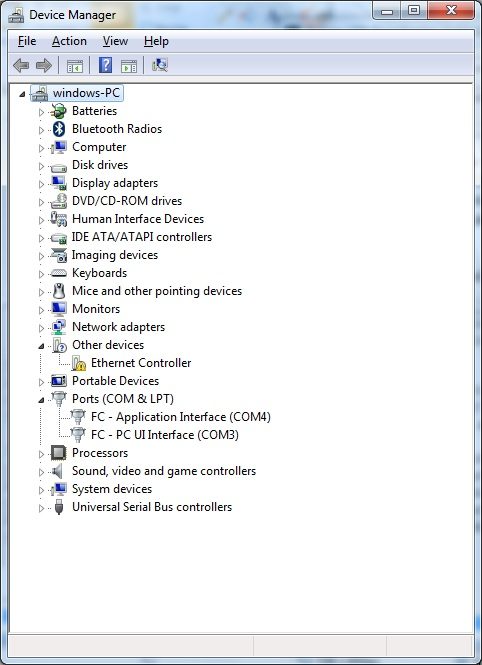 If you can see two ports, as shown above, then choose "Flash Firmware 1"  and click submit button. Wait for a few seconds and you will receive a message stating the "successful installation" shortly.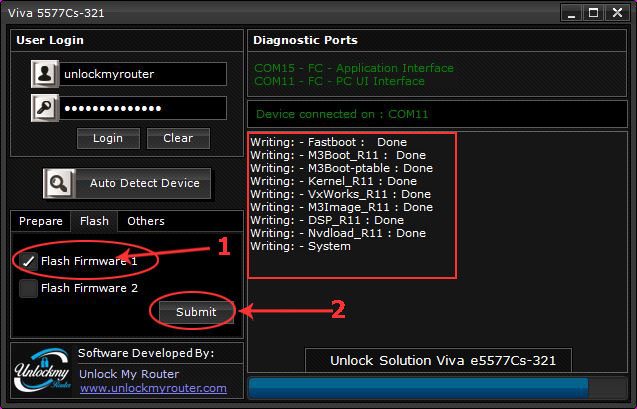 Click on "Autodetect Device". At this stage, it will show your device details.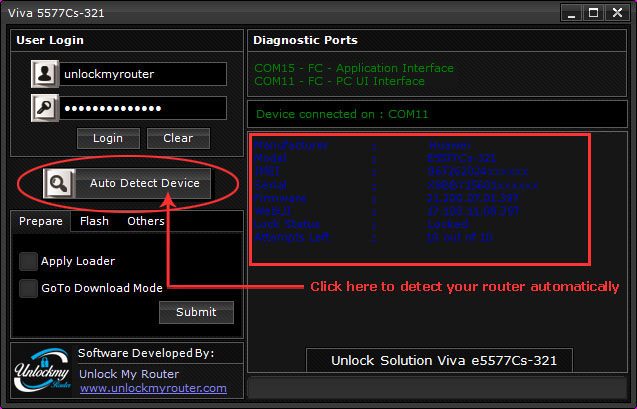 Choose "Go to Download Mode" option. It will ask for a code, enter the exact code which you have received from us, click OK and then submit it.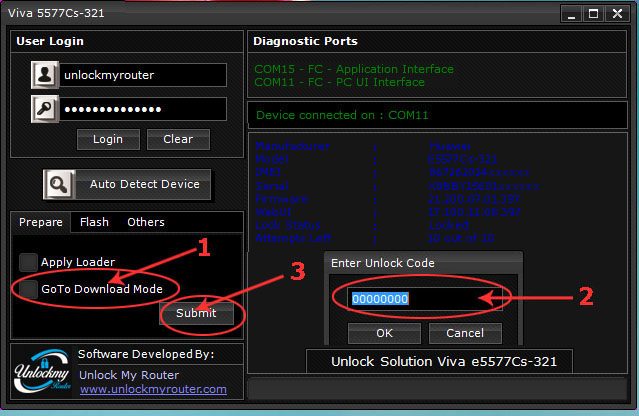 At this point, your Viva E5577Cs-321 may restart, wait for some time till it switches to the correct mode for installing the second firmware. As a consequence, you should get the output given in the screen below.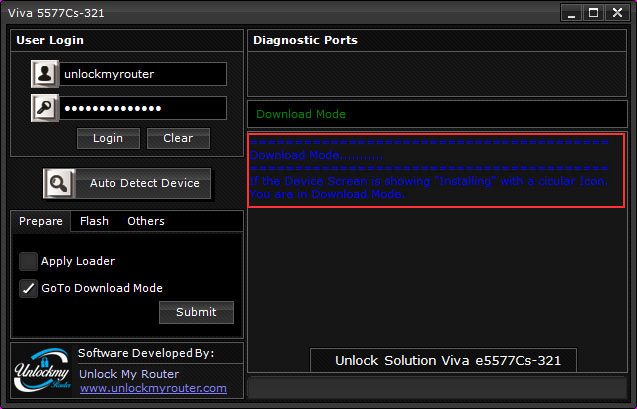 Your E5577 router screen should look same as given in the pic below.

Phase 3:
Proceed to "Flash" and select "Flash Firmware 2"  option. Press submit and wait for the installation finish message.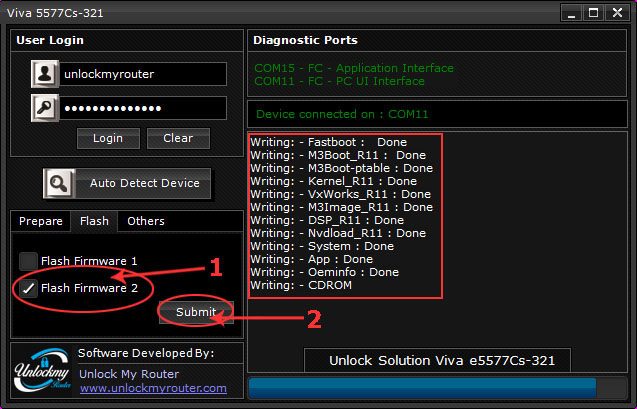 Once it is finished, Click on "Auto Detect Device". After detection click on "reset FTM" and finally click Submit. Your Viva E5577 router will restart and you will have an unlocked Viva E5577 pocket router.

Note: Click on "Reset FTM" only after successfully flashing the "Firmware 2" otherwise your device will go to semi-dead mode.
Unlock code is not free. You will have to pay 6 USD to get the App Code. Kindly proceed only if you agree to pay the same.