Huawei has launched a new router which is similar to look in E5573 but technically there are lots of differences. It is named as Huawei E5577C which is very light-weight and slim. Huawei E5577C provides a download speed of up to 150 Mbit/s and upload speed of 50 Mbit/s. It has a  1500mAh battery and has a nice front display screen to show the information like SSID, password, network and other related information. The device can be configured by opening its URL in a web browser or by using the Huawei hi-link app which is available for major mobile operating systems.
Huawei E5577C 4G Router Review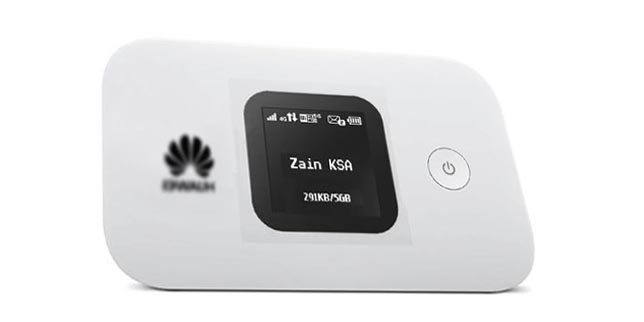 Appearance
Huawei E5577C is available in black and white colors. When you open the box, you will learn that the battery is not fixed in the device, instead, it kept separately in the box along with the USB charging cable in the package. It also doesn't come with a charger, so to charge the battery you will have to use your smartphone charger or you can charge it by connecting it to the PC using the USB cable that comes along with the device. The device is compact making it easier to be kept in the pocket and it is also very convenient to change the sim as the back cover can be removed easily.
Features
Information
Model:
Huawei E5577C
Technologies supported:
LTE, UMTS and GSM
Frequencies:
LTE FDD: 800/850/900/1800/2100/2600MHz
UMTS: 850/900/1900/2100Mhz
GSM: 850/900/1800/1900Mhz
Speed:
LTE: 150Mbit/s download, 50Mbit/s upload
UMTS: 42.2Mbit/s download, 5.76Mbit/s upload
Wireless:
802.11b/g/n to 300Mbit/s, 2 × 2 MIMO, both the 2.4GHz and 5GHz
Firmware:
Varies from country to country
Other Features:
Supports Memory card up to 32 GB
Display 128 × 128 pixels
1500mAh Battery
Software-
There is no need to configure E5577 router as everything is pre-configured. All the settings are automatically applied after inserting the SIM. The WIFI password comes encrypted from the factory which can be found on the back side below the battery as well as on the display screen. Most of the functions can be accessed from the router itself by pressing the menu button, for advanced options you will have to connect the router to the PC or tablet.
Networking Technology-
Huawei E5577C is a cat4 router and supports 4G LTE with a download speed of 150 MBit/s and upload speed of 50 Mbit/s. LTE Cat4 is basically not the latest technology as we have cat6 also which is used in Huawei E5786 WiFi router. E5577C is capable to provide sufficient speeds and in testing, it has achieved the download speed of up to 140 Mbit/s.MBit/s and upload speed of 50 Mbit/s.
WLAN and battery
The Huawei E5577 can connect up to 10 devices simultaneously via WLAN and one device using the USB connection. It supports both 2.4 GHz as well as 5 GHz. One of the interesting features of Huawei 5577 is the capability to be used as the wireless repeater, which allows us to share the existing connection. It consists of a battery of 1500mAH which can provide a backup of around 6 hours on continuous usage. It is removable, so a user can keep a spare battery if he/she wants the extra backup.
Conclusion
After examining it, we can say that Huawei E5577C is a nice product, light-weight and the size is appropriate to keep it in the pocket. The drawback is the 1500mAh battery, which drains quickly. So, If you want a better backup, you will have to buy a spare battery or power bank.