People who used to travel a lot, they need to carry a portable Wi-Fi mobile broadband router with them. Huawei E5770 4G, also named as "Mobile WiFi Pro" is one of the cost-effective routers especially for these type of people. It is available in black or white color and has a nice leather casing and beautiful black and white OLED display. E5570 is slightly bigger and heavier as compared to other models.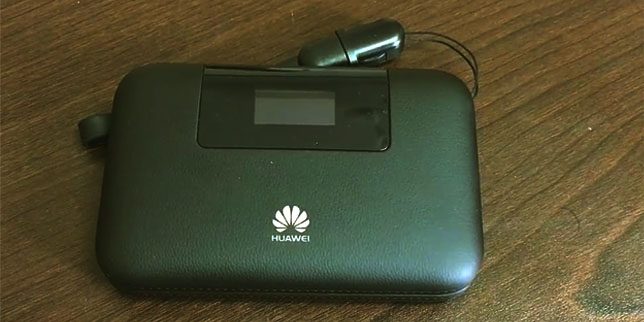 Special features:
4G LTE: Like other devices available in the market, Huawei E5770 also supports 4G. So the immediate question is, why should we buy this model. Answer is, it supports more frequencies bands making it more compatible to be used in major countries around the globe. The added advantage is, it also support previous 2G, 3G, HSPDA, CDMA network so that it can be used in the areas where 4G still has to reach.
Battery:  If you want something extra, it always comes on a price. This model provides a huge backup for more than 20 hours because it has a 5200 mAH battery which makes the device bulkier than most of the other devices.
Ethernet port: This is the first router which i have seen having a RJ-45 port, which is an added advantage as it can be used to connect to the existing wired network, enabling mobiles and tablets to be connected using WiFi.
Work as a WiFi Extender: This is one of my favorite feature which allows connecting to other known WiFi hotspots which can be useful in many scenarios. For example, you can configure this to connect to your WiFI hotspot at home and then you can connect to the MiFi. Not just at home, you can use it wherever you want to increase the signal reception area.
Used as a Power Bank: It also comes with a charging cable which can be connected to the USB port present on the top side, allowing to charge the mobiles and tablets in emergency.
Sharing Files: This is very common features, which is present in all the router these days. It also has Memory Card slot to share files among different gadgets on the same home network.
Internet Sharing: This feature can be useful in cases when you have internet in form of LAN cable but it is needed in mobile. So it has a feature to convert the existing Ethernet internet into WiFi saving your money which you might have spent if you have used your mobile data.
Conclusion:
Huawei E5570 is one of the best pocket router manufactured till date. In our test everything worked as expected, signal reception was excellent and battery backup was superb. If you want a compact and slimmer device with similar features, Huawei e5577Cs-321 can be a better option for you.
Pros:
Excellent and long battery life.
Super Fast LTE 4G.
No need to carry a power bank.
Works as a WiFi extender
Convert wired internet to wireless.
Cons:
Little bulkier
Display is little smaller
Battery takes a lot of time to be charged completely