Every year Huawei launches new 4G Router to meet the increasing market demand. This time it is Huawei B310. STC, Saudi Arabia has recently launched B310s-927 router which carries a customized firmware. If your Huawei B310s-927 router locked by STC is not asking for the unlock code or your Firmware version is 21.328.01.00.1304 or 21.300.01.00.1304 then this post is especially for you. This method might also work with other firmware versions of the same model.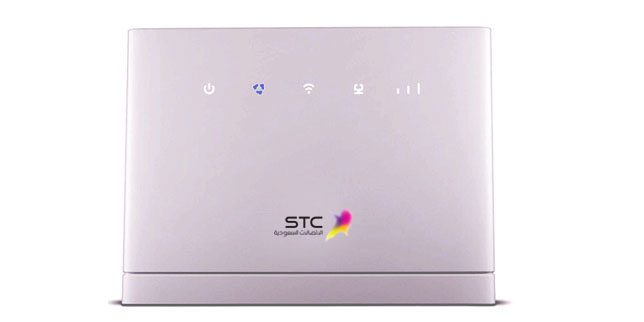 Note: If your firmware version is 21.316.01.00.1304 then directly Jump to Phase II. Update: The B310s-927 Router from GO company having firmware version 21.316.01.20.1304 can also be unlocked using the same APP by directly continuing from Phase II. if your GO router has the firmware version 21.329.01.01.1304, kindly drop us an email to know about its unlock.
Instructions to unlock Huawei B310s-927 STC
Phase I:
Download the Firmware 21.316.01.00.1304 from here and extract it.
Connect the router using LAN cable or Wi-Fi and open 192.168.8.1 in your web browser. Update your B310s-927 router with the firmware downloaded in the step 1.
Once the firmware is updated, proceed to Phase II.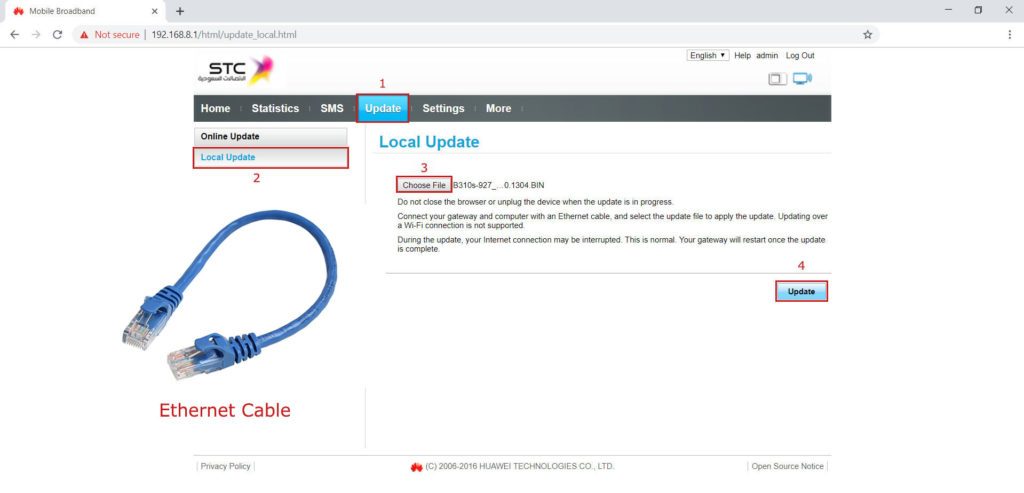 Phase II:
Download B310s-927 Unlocking App from here. Go to User Login (Default username and password is unlockmyrouter).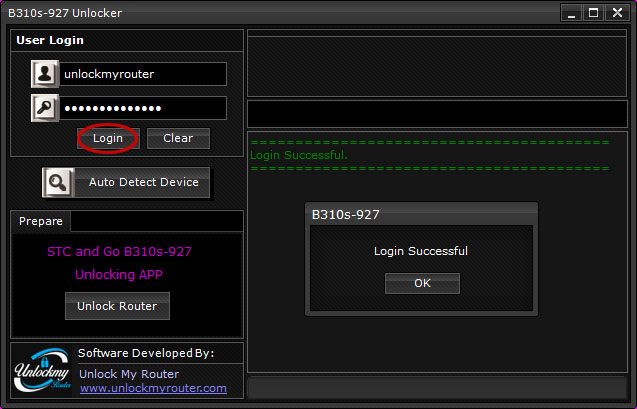 After successful login, Connect the B310s-927 router to your PC using LAN cable and Click on "Auto Detect Device". Your device information will get displayed as shown in the picture below.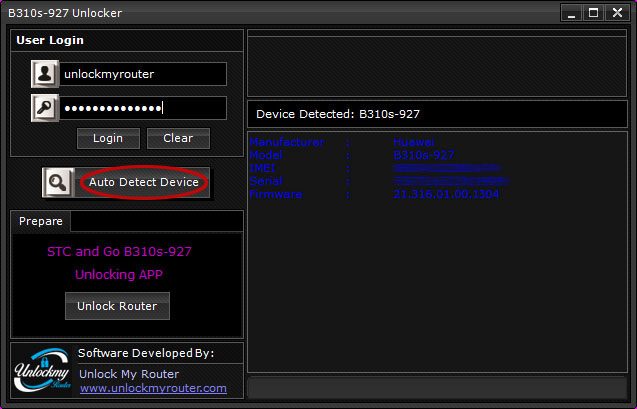 Once the router details are displayed, Click on "Unlock Router". It will ask for the code. Enter the code which you have received from us.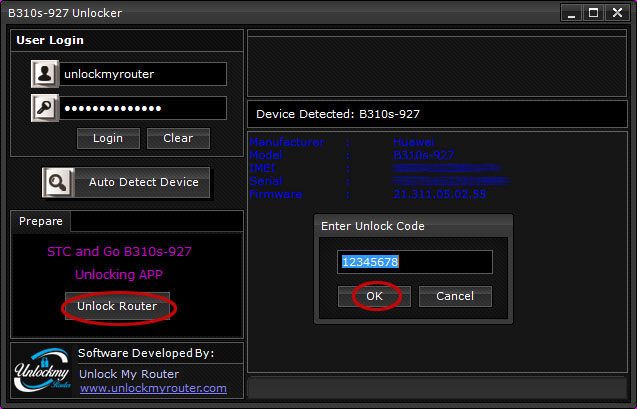 You will get the message "Unlock Successful" and your router will restart automatically.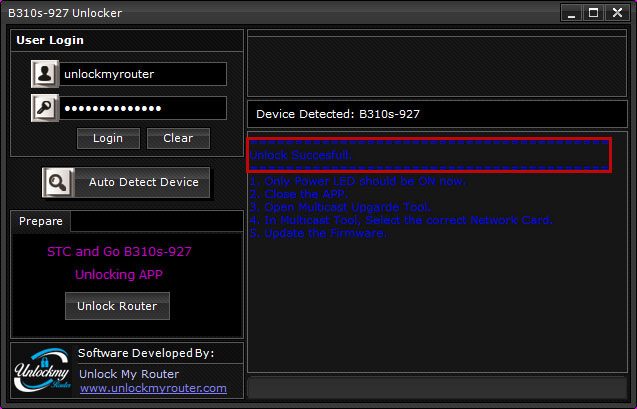 (Note: Only Power led will be on at this stage).
Close B310s-927 unlocking APP and proceed to the next phase.
Phase IV:
Download Firmware B310s-22 21.311.05.02.55.
2. Download Multicast Upgrade Tool from here. Extract and run it as Administrator. Select your Network card from the drop-down box and in the file path box, choose the firmware downloaded in the previous step and click the start button.
Note: Kindly select the appropriate network card to which your router is connected using the Ethernet cable otherwise the blue led will not light up.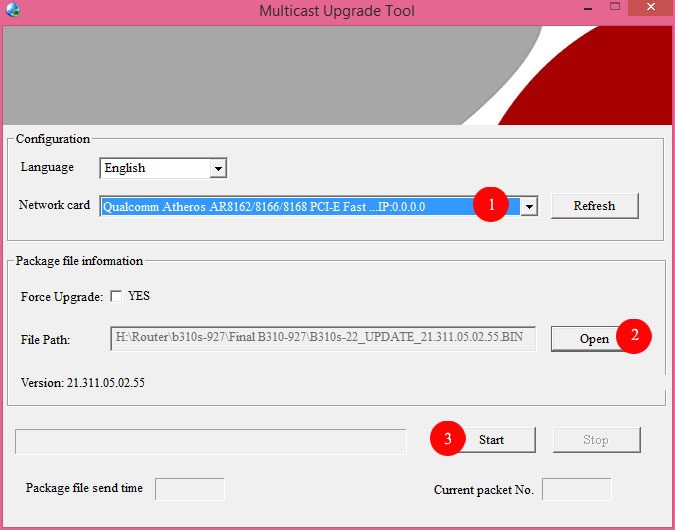 3. Wait for some time the blue led will turn on. If it doesn't come up, pull the power cable from the router and put it back.
4. After a few minutes, you will notice the led will change to a green color. Click on Stop button and close the upgrade tool.
5. Disconnect everything(Lan and power cable), wait for 15 seconds and connect the router again after inserting non-STC sim in the B310s-927 STC router. Your router is now unlocked.
Unlock code is not free. You will have to pay 6 USD to get the App Code to unlock STC B310s-927 Router. Kindly proceed only if you agree to pay the same.